WE ARE IN THE MIDDLE OF SUMMER, BEACH, LATE NIGHTS OUT AND ALL THAT GOES WITH IT AND HOPE TO HAVE ENOUGH ENERGY TO FACE YOUR NEXT DAY AT WORK!!
But, it all starts with your looks, whether you are going to work or for a nice dinner or even on the beach.  When we talk about looks, the first thing that comes to your mind is what clothes to wear according to where you are going.  You want to be wearing the best swimming suit, or the best party wear, but the clothes are not the only thing that makes you look your best, you need a clean shave or a well-groomed beard, and a hairstyle that's neatly cut and done.
You start preparing for your night out an hour or so before, mentally thinking what you are going to wear, but when it comes to hair and beard, you need to think about this way before that unless you have a clean head shave and a clean-shaven beard, well you still need time to do them too, so, luckily for men, we can have this sorted out days before. 
A good haircut can last you for a minimum of 1 week and all you have to worry about is making sure it is clean and styled before you go out. How do you know you have a good haircut?  No matter what hairstyle you have, being a longer hairstyle or a faded hairstyle, if it does not last a week there is something wrong.  In the case of longer hairstyles, a good barber will give you advice on how to style it after you wash it and also might recommend particular products, if you did not know this by now, make sure to ask for this advice.  As for the faded styles, hair does seem to grow faster, but then again, it should last a week.
Looking good makes you feel good. 
Let's start with the clean-shaven head, you might do it yourself at home or you might go to the barber.  I meet a good amount of guys saying that they do not need to go to the barber as they do not have hair but a trip to the barber is more than that.  A good barbershop will not just shave your head but uses the before and after products to give a closer shave (thus it will last longer) and treats your skin on your scalp too.  While doing so, the barber will be removing any dead skin and massaging at the same time for a better blood flow.  This will make your skin look healthy thus making you look good and you feel good.  Also, if you wish, you can ask the barber to check your eyebrows, nose hair or any other facial hair that are out of place to be removed or trimmed. 
The older you are the more facial hair starts growing longer and thicker in some areas, also including the ears, that you might not have had to deal with before.   So, if you still think that going to a barber is not needed, look closer, because you only look in the mirror once a day and still not see it all, while someone in front of you is noticing every hair that is out of place.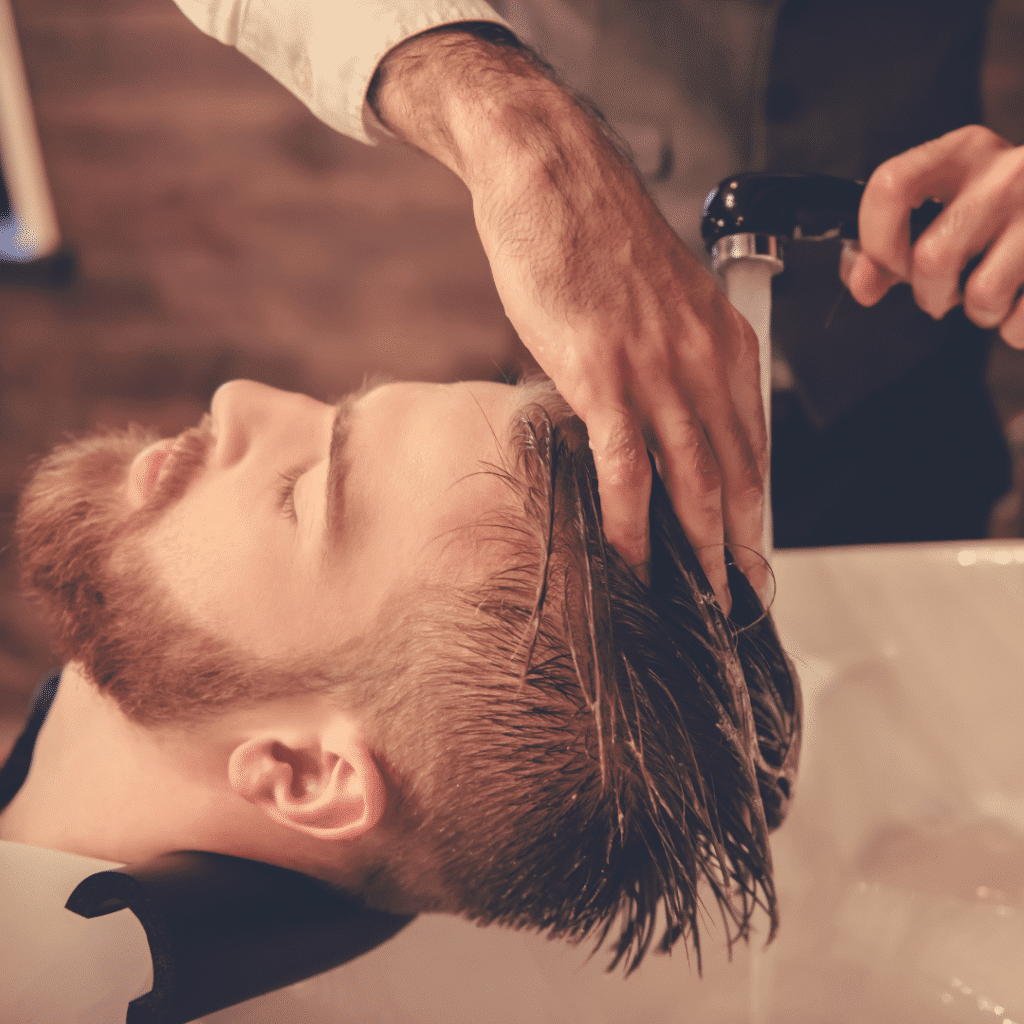 Now we move on to the hairstyle, having short hair means that you might have had the same hairstyle forever. If you are happy with it, well done, as long as it is kept clean and styled to your liking, you nailed it. On the other hand, if you like to follow the hair fashion or like to change your hairstyle, what comes next?
If you have seen a particular hairstyle which you would like to have, a good barber will know if it is achievable and if it will suit you or not. What do I mean by this? If the style you want needs longer hair than what you already have, you have to be patient and wait for the hair to grow long enough to achieve the desired hairstyle, once done, you also have to learn how to style it and what products you need to do so.
Another thing you need to pay attention to is the way your hair grows when you want to change your style, the barber can style it for you the way you want it, but as soon as you wash your hair, it will go back to its natural growth, therefore, you will need more time than before to style it.
I WOULD LIKE TO CLOSE ON ONE PARTICULAR SUBJECT THAT IS MOSTLY OVERSEEN BY MANY. IF YOU DYE YOUR HAIR OR USE ANY TYPE OF CHEMICALS SUCH AS STRAIGHTENING, REMEMBER THAT YOU ARE DAMAGING THE HAIR AND YOU WILL NEED TO USE TREATMENTS TO KEEP YOUR HAIR LOOKING HEALTHY. CHEMICALS REMOVE THE NATURAL OILS FROM THE HAIR AND LEAVE THE HAIR LOOKING DULL, DEPENDING ON THE EXTENT OF THE DAMAGE IN THE HAIR; YOU NEED STRONGER HAIR REPAIR TREATMENTS. AND NOT ONLY CHEMICALS FROM HAIR DYE OR STRAIGHTENING CAN DAMAGE YOUR HAIR, BUT ALSO IN SUMMER, IF YOU ARE A FREQUENT POOL USER, REMEMBER THAT THERE ARE CHEMICALS IN THE WATER TO KEEP IT CLEAN. POOL CHEMICALS, SALTWATER FROM THE SEA COMBINED WITH THE SUN DOES NOT LEAVE YOUR HAIR LOOKING HEALTHY. YOU MIGHT NOT NEED STRONG TREATMENTS, BUT, THE USE OF A HAIR CONDITIONER AFTER SHAMPOOING WILL HELP MORE THAN YOU CAN THINK IT WOULD.
A trip to the barber is not only to keep your head of hair in place but also time for you to relax.  At Antonio's Barber Shop we think of you as soon as you think of us.  How?  Our online booking system can be accessed any time of day or night, it might be the first thing in the morning, or even when you are getting ready to go out.  Not bothered to log onto our system, just send a message and we will get back to you so you do not have to remind yourself to book your appointment. 
We also call you or send you a message a day before your appointment to remind you.  As soon as you arrive, you can leave your stress at the door and start your relaxing time, our receptionists will take over from there.  A fresh beer or a glass of whiskey will be waiting for you too, and let the hands of the barbers do the rest.
YOU WILL LEAVE #LOOKINSHARP AND RELAXED, WITH A SWAGGER IN YOUR FEET READY TO TAKE ON THE WORLD !!